Civil war, economic crisis, political instability, and the pandemic have ravaged the population in the Middle East. Many no longer see any prospects for the future. Hundreds of thousands have fled abroad or live wretched lives as internally displaced persons. The region remains a priority for ACN. Our aid's primary objective is to give Christians hope and to support them in remaining in their homeland, the cradle of Christianity.
« If the West remains inactive, the decimation of Christians in the Middle East is imminent. »
The Syrian Catholic Patriarch Ignatius Joseph III Younan of Antioch
Many Christians in the Middle East are still suffering from the consequences of war and IS terror. The economic and political situation does not instill confidence in the people either. Many people continue to think about seeking a better future abroad. Meanwhile, total despair often prevails. Project partners report that during the war, people in Syria at least held out hope that things would get better in the years that followed. Now, however, they see no future for themselves at all.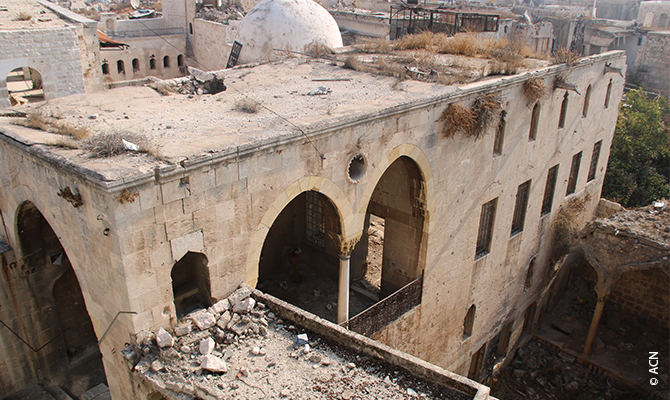 A ray of hope for Christians in the Middle East was the Pope's trip to Iraq in March 2021. The visit encouraged the faithful and offered them self-confidence. It also gave them confidence not only in Iraq but in the Middle East. Giving Christians new hope is also our goal in the region. Thus, we provided project aid of more than 10.8 million euros in the priority countries of Syria and Lebanon in 2021. This included emergency aid for food and medicine, support for senior citizens and students, material aid for sisters, Mass stipends for priests and funds for the reconstruction of pastoral structures, and emergency aid for church schools and hospitals.