In 2021, we received 6,782 applications for aid from all over the world. Thanks to the generosity of our benefactors, we collected record donations of 133,1 million euros, enabling us to fund activities amounting to 128.5 million euros. 4.6 million euros that could not be used in 2021, are earmarked for project aid in 2022. In line with the three pillars of our work, "prayer, information, action", by far the largest share of our expenditure, 82.4%, was devoted to mission-related expenses, i.e. concrete project work, information and prayer activities.
Mission-related expenditure
Donor relations and fundraising
Mission-related expenditures
Information, proclamation of faith and advocacy for discriminated and persecuted Christians
The proportion of necessary expenditures for administration and fundraising was, as always, very low at 6.7% and 10.9%, respectively, so that as many funds as possible could reach local Christians.
donors worldwide per year
euros in donations and other income
projects supported worldwide
of the funds used are allocated to mission-related expenses
In 2021, we supported a total of 5,298 projects in 132 countries with approximately 92,8 million euros. A further 13,1 million euros were used for proclamation of the faith, information work and advocacy for disadvantaged and persecuted Christians worldwide.
Bequests made up a significant part of our support for the Church in 2021 at 27.2 million euros, or 20.4% of our revenues. Together with our brothers and sisters in need, we therefore not only thank our living benefactors, but also gratefully remember those who support us beyond death.
» Building projects, Mass stipends, faith formation and subsistence aid were our focal areas in 2021. «
At 28.2%, building and reconstruction projects for churches and church institutions claimed the largest share of funding.
One fifth of the funds was used for Mass stipends, which benefited priests and their parishes. Another fifth was used for the training of priests and the faith formation of lay people. As many religious sisters have been severely affected by the ongoing pandemic, we once again increased our subsistence aid for the sisters – which rose to 10.5% of our total aid.
In addition, we are active in acute crises with emergency aid measures for the suffering population. In 2021, such emer- gency aid in areas where Christians are threatened by violence and displacement accounted for 9.9% of our total aid.
Aid granted by type of help
Construction and reconstruction
Training of priests and religious
Means of transport for pastoral care
Distribution of Bibles, religious books and media
Subsistence help for religious
Receiving 30.7% of the funding, Africa was again the priority region for our aid projects in 2021. The situation is particularly dramatic in places where Islamist terror is spreading and Christians are victims of persecution and displacement, such as in Mozambique, Burkina Faso and Nigeria. The coronavirus pandemic has further aggravated the situation of the Church.
Our aid to Asia increased to 22.3% in 2021, as the continent continued to be severely affected by the pandemic. The situation was particularly dramatic in India, where our aid helped priests and religious to continue their pastoral work.
Central and Eastern Europe received 15.2% of the funds. Here, too, many priests and religious continued to suffer existential hardships as a result of the pandemic.
Our funding volume for the Middle East was 16.9% of our total aid, with Syria and Lebanon as focal points in 2021. The aim of our emergency aid was to ensure the survival of Christian communities and to counteract the massive exodus of Christians.
Latin America accounted for 13.8% of our total aid. In 2021, the continent continued to be one of the epicentres of the pandemic, further heightening poverty within the population and causing priests to face increasing existential hardships due to the lack of collections.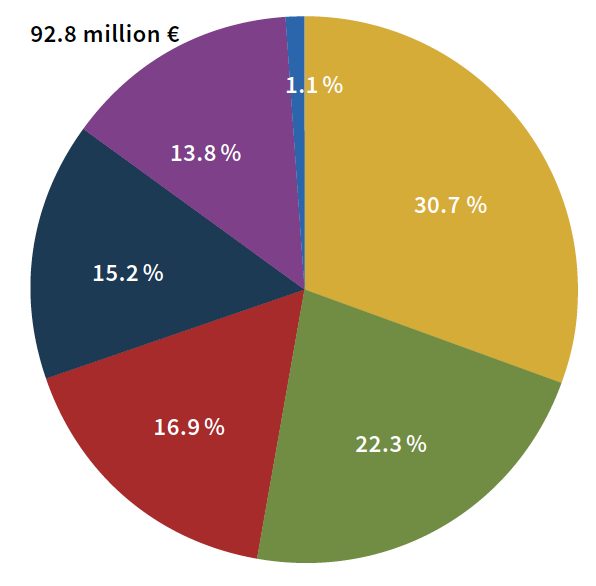 Central and Eastern Europe