Kyrgyzstan was a Soviet republic until 1991. After the collapse of the Soviet Union, the country became independent. Only about 6.3 million people belonging to different ethnic groups live on an area of almost 200,000 square kilometres. 75% of them are Muslim and 20% are Orthodox. The few Catholics in the country mostly have Polish, Ukrainian or German roots. In order to strengthen the presence of the small Catholic communities, ACN supports them with vehicles, existential help, Mass stipends and construction assistance.
A large part of Kyrgyzstan is mountainous and some places are difficult to reach. There are three regular Catholic parishes in the country serving a total of 20 small communities. Only six priests, one monk and five nuns are employed in the Apostolic Administration of Kyrgyzstan.
For the priests, no distance is too far to reach the faithful.
In addition to pastoral work in the parishes, the Catholic Church of Kyrgyzstan also runs facilities for disabled children, orphans and alcoholics. The long, hard winters with avalanches and snowstorms are particularly dangerous for the priests.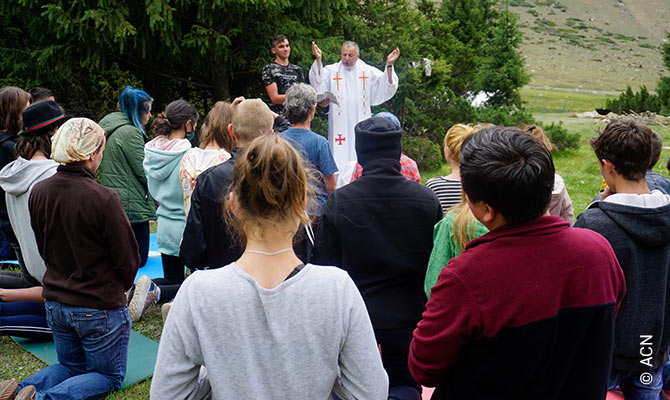 Nevertheless, they take on any journey, even if only one Catholic family lives in a village or the faithful are isolated from the rest of society on completely remote farms. Reliable off-road vehicles are indispensable for this endeavour. ACN therefore approved the financing of such vehicles during the reporting period. In addition, nuns were granted material support and the priests received Mass stipends. Further funds have flowed into the maintenance and development of the Church infrastructure.