The Solomon Islands are a group of islands in the South Pacific Ocean, located about 720 kilometres east of New Guinea. Many of the more than 1,000 islands in the Solomon Islands are threatened by rising sea levels. The Catholic Diocese of Gizo, which is based here, has 118 mission stations. The area served extends over 40islands with a radius of 300 kilometres. Today, almost all the inhabitants of the Solomon Islands are Christians, mainly Protestant, and about 20% are Catholics. ACN supports the priests of the diocese with Mass stipends.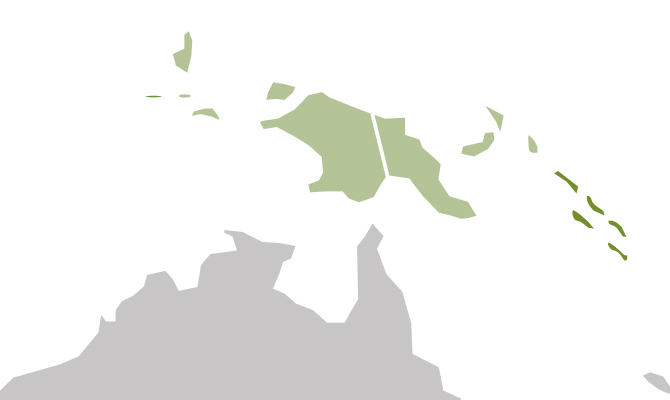 Until a few years ago, most of the priests on the Solomon Islands were foreign missionaries. It is all the more gratifying that now the majority of the 16 priests in the Diocese of Gizo are locals. And the number of local vocations is increasing, with two young men receiving priestly ordination in 2020 as well.
Thank you for your help and for not letting the Diocese of Gizo down.

Bishop Luciano Capelli
But caring for the 11,000 Catholics in the Diocese of Gizo is a major challenge. This is because the faithful live scattered on various islands, some of which are far away from each other.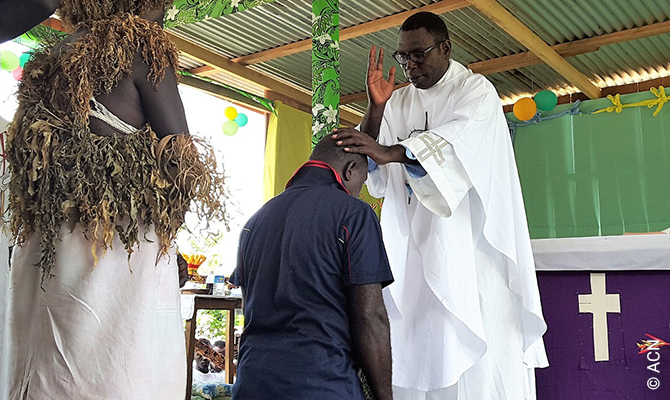 Hours of boat trips between the islands and arduous walks through the bush are unavoidable. More priests are therefore urgently needed on the islands, but the diocese is poor. The priests' livelihood and ensuring the next generation of priests are a major financial burden for the Church, especially formed the local Church is also still faced with the herculean task of repairing damaged churches and church buildings destroyed by the earthquake and tsunami of 2017.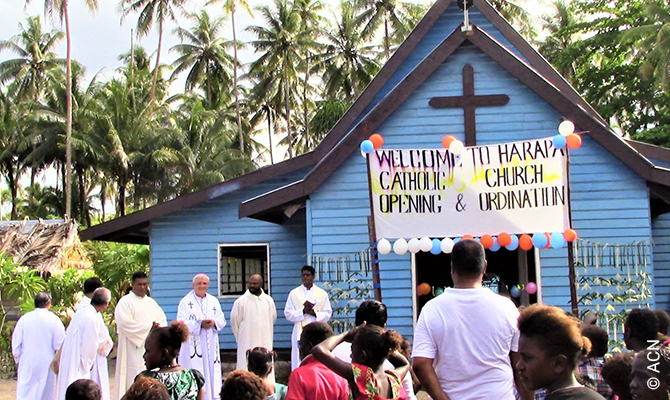 In 2020, ACN therefore supported priests in the Diocese of Gizo with Mass stipends to financially relieve the local bishop.
The Diocese of Gizo celebrates
its golden jubilee
2020 is a milestone in the history of missionary work in the Solomon Islands. This is because the Diocese of Gizo was able to celebrate its 50th anniversary last year. At the big celebration, two young men were also ordained as priests. Today, the diocese is active with 118 mission stations on 40 islands of the archipelago.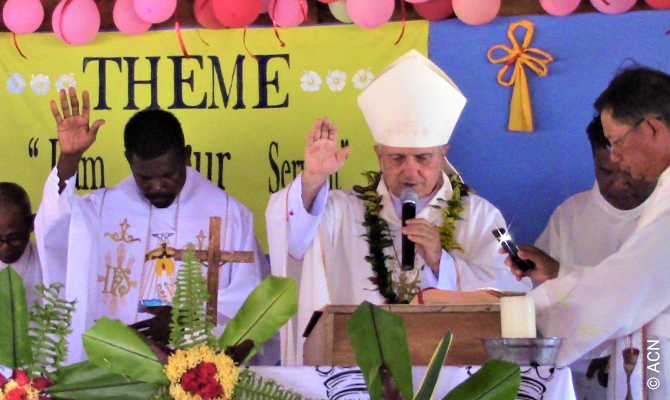 16 priests tirelessly fulfil their mission, although the isolation of island life also brings many hardships. ACN's help is not only valuable in financial terms, but it is also a spiritual "incentive" and a "source of inspiration" for the priests.