"When we hear Pope Francis we realise that there is still hope of peace in Syria"
In Rome the universality of the Church is again evident: until 28 October the  Synod of Bishops will continue there. Participants from five continents are dealing with various topics related to young people, their needs and their problems. Against this backdrop the pontifical foundation Aid to the Church in Need (ACN) has spoken to a number of young Christians in Syria. They explain what it means to them to be Christian and what they expect from the Church in their country, where they are a threatened minority that has been suffering from war for over seven years. 
Majd Jallhoum recently completed her dental studies. She works helping to distribute emergency aid at the Greek Catholic church in Marmarita, in an area known as the "Valley of Christians". She asks the Church to be close to young people. "It does not have to be a perfect Church because none of us is perfect. But it should be close to us and know our wishes and what we long for." Majd knew nothing of the meeting between the bishops and the Pope in Rome. But she believes this is a good opportunity to focus on the difficult situations in which many young people live in various countries. "Here in Syria we young Christians desire to be very close to God. We are going through difficult times. We have experienced the death of friends and relatives. Many others have left the country. But we have also experienced times of joy. There is no doubt that the hand of God is behind these."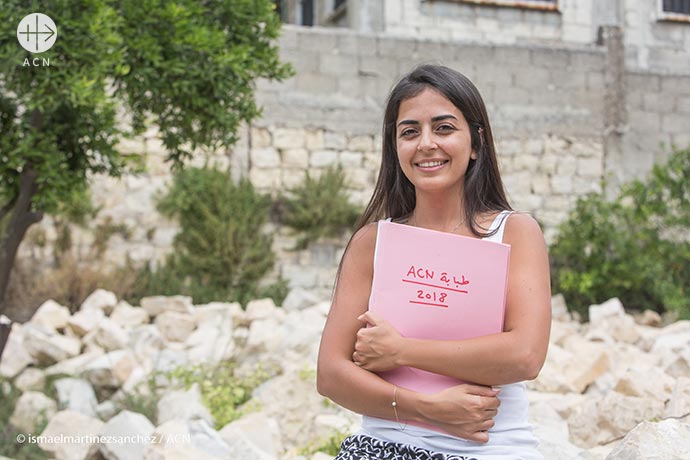 Majd knows from personal experience the situation of many families living as displaced persons in the "Valley of Christians". She often visits them to learn what they need, to accompany people to hospital or to distribute medications provided by ACN together with the local Church. "I stay here on account of my faith, even though I often lose hope. However, I have understood that my task is to remain here and help these people. My parents and some brothers and sisters have emigrated to the United States. But I have decided to stay here. My inspiration was and still is Jesus."
Hanna Mallouhi is also one of the displaced young persons in Marmarita who devote their time and energy to supporting the major relief work of the parish of St. Peter in the Valley of Christians. He fled from Homs five years ago to escape the bombing raids. Hanna is studying medicine. "Despite the war I didn't want to abandon my studies. I chose to do my internship in a hospital in Damascus. When the war is over I'd like to stay here and help people so that they can have a better life in Syria."
With regard to the Synod of Bishops he said: "For me it's important that we young people are accompanied by priests and responsible individuals who lead a simple life and that they show us through their actions that we are important to them. I need the company of people who are close to God so that I also feel close to Him."
There are also Christians still living in Homs, the third largest city of Syria after Damascus and Aleppo. They are found mainly in the old city of Homs, in the oldest quarter located at the foot of the ancient citadel. About 300 students gathered there in the recently reconstructed Melkite cathedral "Our Lady of Peace" to celebrate the Eucharist.
Pascal Napki was among them. He is studying economics and regularly follows the Holy Father's messages from Rome: "I don't know Pope Francis personally. But from his words and deeds I see that he is a humble person. Every time we hear him we think that there is hope of peace in Syria. I am particularly moved when he calls for prayers for our country." Next to Pascal is Halil, a pharmacy student who quietly reflects for a few seconds about the question: "What do I expect of the Church?", and then answers emphatically: "I expect it to understand us, to encourage us and to give us the opportunity to have faith in ourselves as well. I know that this isn't easy. But it means taking the same road together, trusting one another and giving one another support."
After the meeting a group of young Christians goes for a walk in the quarter's narrow streets. Tannous explains that because of the suffering in Syria some people have turned away from God. "But the bombs, the ever present distress and the violence have destroyed neither the zest for life nor the future plans of the young people. That's why we as the Church must first encourage the young people to get close to God." During the walk they enter a nearby church to pray together there. It is a church of St. Mary belonging to the Syriac Orthodox community. "Here we all live together as Catholics and Orthodox as a matter of course. This is part of our culture."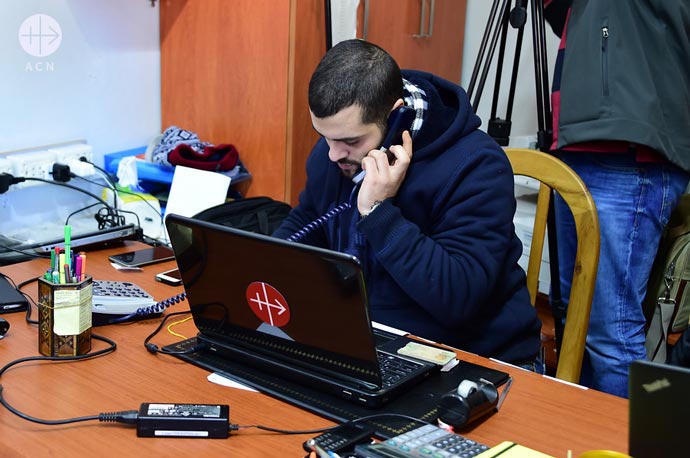 As he enters the church Wisam says: "We pray for the Pope and for the Church in the whole world. Here faith is something fundamental. It makes up a large part of our identity. Over the past few years we have also overcome many difficulties in our families, in our studies and at work precisely because we have not lost our faith and our hope."
The testimony of these young people from the Christian community in Syria, a minority which has suffered a lot in the course of the armed conflict, can be an inspiration for others. According to the Syrian Church 1.5 million Christians were living in the country before the war. At present there are only about 500,000. The uncertainty, the violence and the threats from jihadi groups such as the so-called "Islamic State" have led to an unprecedented wave of emigration. The pontifical foundation ACN supports numerous projects for children and young people in various cities in Syria.