The Melkite Catholic Archbishop of Homs, Mons. Jean-Arbach, has issued a message tinged with weariness and sadness at the current situation in Syria, after seven years of war and the most recent events. "People cannot take any more", he says. "They simply want to live an ordinary life, to sleep peacefully in their beds and wake and go to work, and not to the sound of falling bombs. It is enough, it is too much." Speaking to the international Catholic pastoral charity and pontifical foundation Aid to the Church in Need (ACN), he asked the charity to pray for them. "We need prayers, prayers and more prayers. It is the only thing that can bring us unity in this country", he repeated, recalling that Pope Francis has also called for us to pray for the situation in Syria which – as he himself explained – is not simply about this country, but has now crossed international frontiers, so that the whole world needs peace. "What was the point of this war?", he asked. Everything has been destroyed, there are millions of refugees… If only the politicians of the world would work for peace and not for war" he repeated despairingly.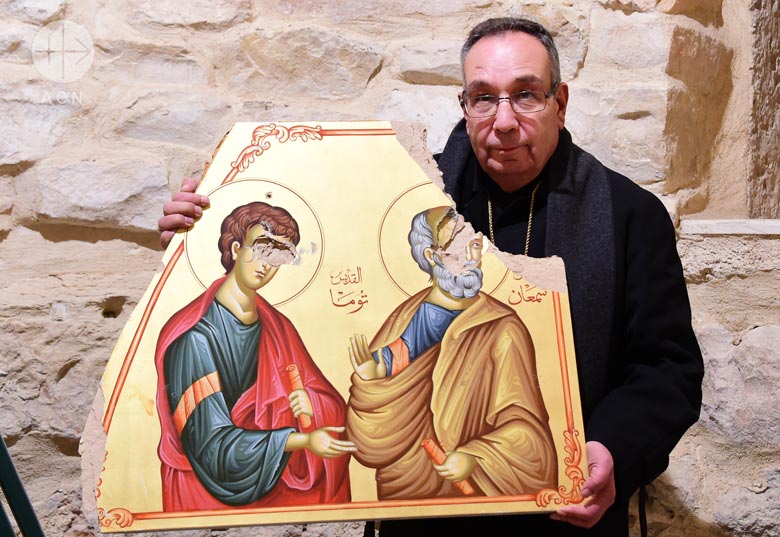 Yet despite this terrible situation, the Syrian people have not lost courage or the belief that their country can rise again from the ashes. ACN is helping in the region of Homs with a number of different projects, including study grants for 4,000 students, basic foodstuffs, medicines and the rebuilding of people's homes and of Church properties. 80% of churches and catechetical centres have already been repaired, Mons. Jean-Arbach pointed out.
For their part, the patriarchs of the three main churches in Syria – Greek Orthodox Patriarch John X, of Antioch and all the East, Syrian Orthodox Patriarch Ignatius Aphrem II of Antioch and all the East, and Melkite-Greek Catholic Patriarch Joseph Absi of Antioch, Alexandria, and Jerusalem have issued a statement, sent to ACN, in which they "condemn and denounce the brutal aggression … by the USA, France and the UK" in response to a supposed chemical weapons attack by the Syrian government on the city of Duma. They denounce this terrible situation which they describe as "a clear violation of the international laws and the UN Charter", and describe it as "unjustified and unsupported by sufficient and clear evidence". They insist that this is "a brutal aggression that destroys the chances for a peaceful political solution and leads to escalation and more complications", and say that it "encourages the terrorist organizations and gives them momentum to continue in their terrorism". In their statement the patriarchs call on "all Churches in the countries that participated in the aggression, to fulfill their Christian duties, according to the teachings of the Gospel, and condemn this aggression and to call their governments to commit to the protection of international peace".