The diocese of Saint Joseph In Irkutsk, in eastern Siberia, is geographically speaking the largest diocese in the world. With an area of almost 10 million km² it is actually larger than the United States! Scattered thinly across this vast region are 50,000 Catholics, ministered to by around 40 Catholic priests. In addition there are 63 religious sisters of various different congregations. Their work in the parishes is absolutely indispensable, and in addition they are involved in all kinds of charitable and social work that is a veritable blessing, above all for so many children from broken homes and for the lonely, the elderly, the sick and the homeless, including many street children.
In the city of Irkutsk for example, in the parish of the Immaculate Heart of Mary, two sisters of the congregation of the Servants of the Holy Spirit work with children from difficult family backgrounds, including children living in poverty, from large families, or with parents who are alcoholics. They have opened a house which they call the House of Hope. The children come here every day to do their schoolwork, to eat and to play. The sisters organise a range of different activities for them, helping them with their schooling and striving to create a real family atmosphere, so that the children can experience something there of what they have never known in their own families.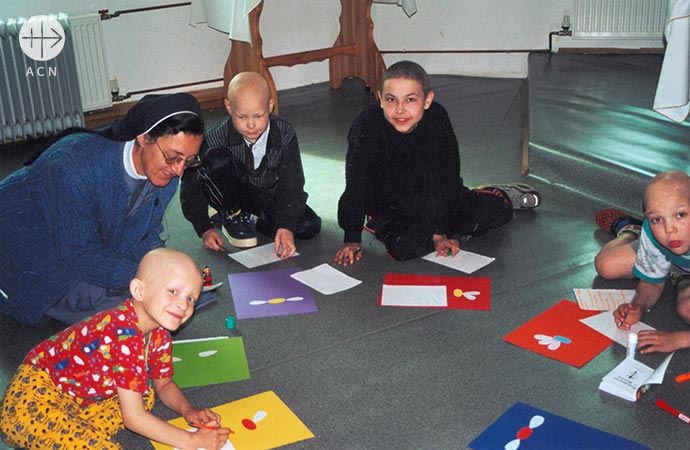 The same two sisters also regularly visit the children at the tuberculosis clinic, organising a range of activities for them, and similarly for the children in hospital, suffering from cancer.
In Abakan the sisters have made space in their convent for homeless women with children and at present they have two mothers and three children staying with them. They also visit the sick and elderly.
We are helping all 63 religious sisters from the various different congregations in their work in the diocese of Irkutsk with a small contribution for their financial support. All in all it comes to a total of 31,500 Euros – or just €500 per sister for an entire year. Would you be willing to help us?