[vc_row][vc_column][vc_column_text]A smiling Fr. Teresito "Chito" Soganub was presented this afternoon during a press briefing by the Armed Forces of the Philippines (AFP). The priest was immediately excused by defense officials. However, before his exit, Fr. Soganub was allowed to give a short statement where he asked for prayers for a quick recovery from the traumatic experience that he underwent for the last 117 days as a hostage of a religious extremist group.
Fr. Soganub's rescue happened at 11:45 P.M. of Saturday evening as the military sought to clear the Bato Islamic mosque, one of three mosques considered as strongholds of the terrorists. The mosque was successfully retaken by the soldiers.
In a video interview conducted by a local government official and published on a social media website, Fr. Soganub maintained the importance of the mission of the Prelature of Marawi in engaging the Muslim community in inter-religious dialogue.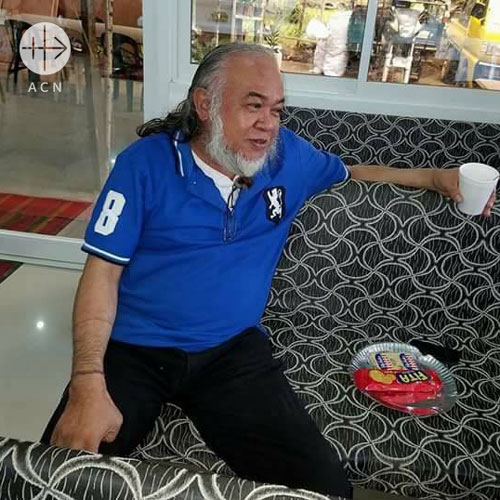 Father Teresito Suganob
"To the Muslims of Marawi and Lanao del Sur, I continue to believe that we can still be united as Muslims and Christians. We are not enemies, we believe in one God," said Soganub.
The priest also thanked the AFP for his successful rescue.
Yesterday, Bishop Elenito Galido of Iligan, a diocese 37 kilometers away from Marawi, also thanked the soldiers who rescued Fr. Soganub.
"This is really good news. I thank the soldiers who rescued Fr. Chito and the teacher from Dansalan College. We are very pleased, this is an answered prayer because we have been praying for him every day. Now, they are free. Thanks be to God," Bishop Galido said in an interview with Radio Veritas, a Catholic radio station.
During the Press Briefing, the military revealed Fr. Soganub did not experience any physical abuse, but there were times during heavy firefight when he was forced to carry firearms and pose like one of the terrorists.
Fr. Soganub is the Vicar General of the St. Mary's Cathedral in Marawi, a predominantly Muslim city in Central Mindanao, the southernmost archipelago of the Philippines. Pope Paul VI created the Prelature of Marawi to offer a hand of reconciliation to Filipino Muslims who were victimized by the abuse of government forces when the nation was under Martial Law.
Last 23 May 2017, the city of Marawi was laid siege by more than 700 armed men who professed allegiance to Daesh (IS). According to the Philippine government, a total of 47 civilians, 149 government troops, and 673 terrorists have been killed in the ongoing conflict. The government also declared that there are 359,680 persons displaced by the war.
There are no updates about the remaining fifty hostages, around twenty of which are staff of the St. Mary's Cathedral.[/vc_column_text][/vc_column][/vc_row]