Regina Lynch recently returned from Damascus, where she represented Aid to the Church in Need International (ACN) at a conference of the Catholic Church together with aid agencies serving the people of Syria. In this interview the pontifical charity's director of projects speaks about the current situation of the Christians in Syria, 11 years into a terrible civil war. By Filipe d'Avillez.
This month marked the 11th year of war in Syria, but the anniversary did not make much of an impact in the media…
It is only natural that the war in Ukraine is dominating the headlines and our project partners in Syria also expressed their concern for the victims of the war and prayed for peace. However, it is also true that the conflict in Syria that now starts its 12th year is in danger of being forgotten in the wider media. Thankfully, Pope Francis still expresses his closeness to the Christian community there. At the beginning of the recent conference in Damascus, "The Church as a House of Charity – Synodality and Coordination", he sent a message, telling the Christians: "You are not forgotten; the Church remains particularly concerned for your welfare, for you are the protagonists of the mission of Jesus in this land".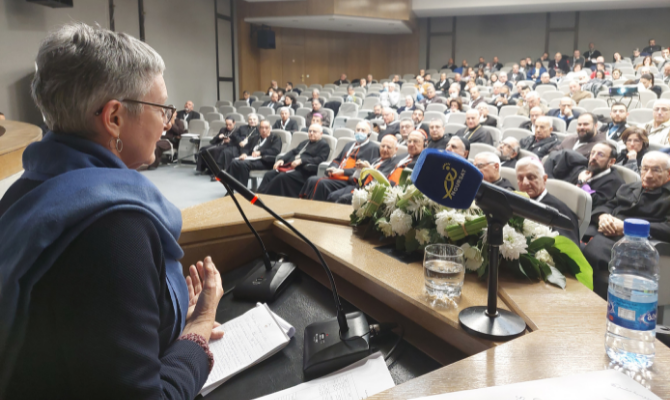 Do local Christian leaders have hope that the situation will ever improve?
As Christians, we must have hope, and our faith gives us this hope. It is faith that drives the aid so urgently needed in an ever-worsening humanitarian situation. During these colder months it is particularly bad. In many parts of the country temperatures fall to freezing at night and yet at least 90% of the population lives below the poverty line, meaning they have no money to buy heating oil or to pay for electricity to supplement the few hours that come from the grid. I think what gives hope to Church leaders – and Christians in general – is that a delegation from Rome and many non-Syrian charities attended this conference despite all the difficulties, including roads blocked by snow and Covid.
It is true, however, that despair is common among Syrian Christians. We are happy, then, to be able to support initiatives specifically targeted at giving people hope in desperate situations. For example, at the Christian Hope Center, in Damascus and Homs, we fund projects to help people rebuild their livelihoods after the war. Across the country, we fund summer camps for poor children to be more grounded in the faith, and to enjoy themselves in challenging circumstances. Many Christians are short of hope, but any they do find is often in the initiatives of the Church.
How has the war affected the faith of Christians in Syria?
Many of the Christians in Syria have suffered terrible trauma over the past eleven years. They have lost loved ones, witnessed extreme violence, and even been threatened with death for remaining Christians. I believe it is thanks to their faith that many have endured. Last year, we visited a woman whose husband was kidnapped, and likely murdered, by Islamic extremists in Maaloula. Her only consolation is in the Church and in the faith, and in particular in the sisters who support her family. For many Christians, the war has had a positive effect on the faith, and, in spite of everything, it has been an opportunity for the Church to put its teaching on charity and forgiveness into action.
It is true that more young people than ever are involved in Church activities: in Scouts, in camps, and in events. Given the poverty and challenges of ordinary life, meeting others at the Church has become more common than it used to be. At the same time, young people especially are asking difficult questions about the faith, and their future. After so many years of violence, where is God? Is the Church doing everything it can to protect their future in the country? Why has this war left some of their friends dead, and most of the others leading seemingly content lives in the West? Should they stay or should they go? These can be tormenting questions, and we want to make sure the Church is there to support Christians as they grapple with them, and with the trauma of the past decade.
These days we hear a lot about sanctions. These are often presented as an alternative to war, but they seriously affect the population. Having seen the long-term effect of sanctions in Syria, what is your perspective?
Before the war started, Christians in Syria were not dependent on outside help. In fact, they had their own local charities for helping the poorer population. It is now very sad to see how such a large percentage of the population is in dire need of relief aid. For sure, in Syria the ordinary people are the victims of the sanctions. Inflation is rampant and they can no longer afford medicine, surgery, meat, milk for their children, or even the bus fare for going to school or university. Even those with relatives abroad cannot receive any money because of the banking embargos. The reality is that most sanctions in Syria are hurting the people more than anything else. The local Church has spoken out strongly against them, and we support these calls.
Do these organisations serve only Catholics? Or do they serve people of different religions?
Each organisation has its own charisma that also depends to a certain extent on the source of its funds, i.e., governmental or non-governmental. ACN is a Catholic organisation with mainly individual Catholic donors and our project partners in Syria are leaders of the Catholic or Orthodox Churches. They in turn help mainly their own communities, as a development of the pastoral activities of the Church, but in some projects they also reach out to Muslims who are in difficult economic situations.
For example, many sisters in Syria focus on visiting families and supporting their faith, so in their relief work they mostly support Christians who they know through their pastoral work. The Church also supports Muslims, of course, for example at some Catholic schools supported by ACN many or most students are not Christian.