How young Christian parents found a house for themselves and their newborn child thanks to Aid to the Church in Need
For some Christians in Iraq, the future is just a few weeks old. Baby Timotheus was born in mid-May. "It is my heartfelt wish that my son will be able to grow up in Iraq. God will find a way," his father Samir hopes. He and his wife Siba are proud parents – and devout Christians. Their baby will be baptised in just a few weeks. The young people – he is 30, she 25 – live in Bartella, a Christian town on the Nineveh plains near Mosul. The majority of its inhabitants are Syriac Orthodox.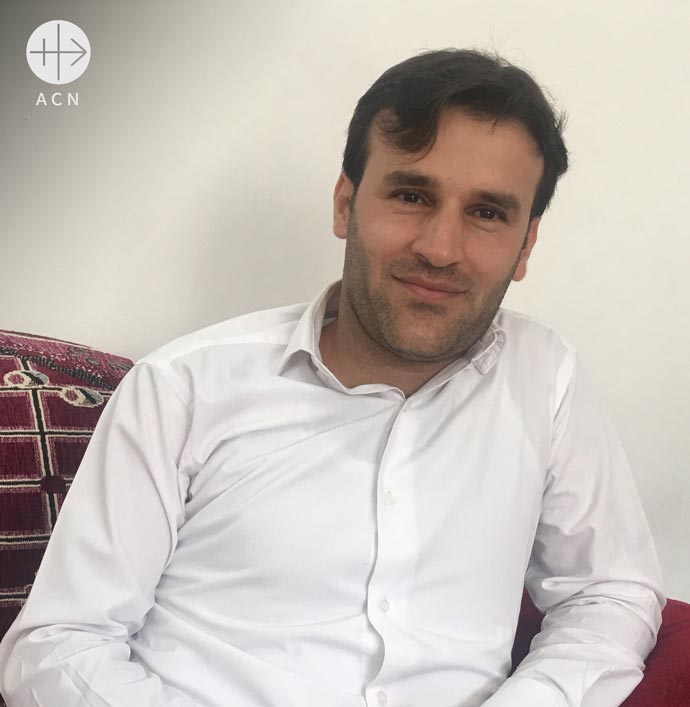 Their small son lies quietly in the arms of his mother. His parents will later tell him about the difficult times the family went through in the years leading up to his birth. The Islamic State arrived in Bartella in August of 2014. All of the Christians living in the town fled in panic from the Islamic extremists. Their churches and houses were destroyed, damaged, and almost all of them were looted. Aid to the Church in Need (ACN) is making it possible for Christians to return to the places they call home. A large project has been called into being to restore the houses made uninhabitable by IS. This has paved the way for more than 45 per cent of families displaced in 2014 to return to their homes, a total of more than 8700 families as at June 2018.
The house Timotheus is spending the first year of his life in is not owned by his family. "The house does not belong to us. The owner lives in Sweden. However, thanks to ACN, we are living in this house for one year for free," Samir explains. This has been a big help to the young family. "May God bless the benefactors and support them in every stage of their lives. They live by the words of Jesus: I was homeless and you welcomed me." This is possible because the reconstruction committee, which is sponsored by ACN, has stipulated that assistance will only be granted for the renovation of houses destroyed or damaged by IS if owners who do not live in their houses themselves allow a needy family to live in them for one year for free. Samir and his family are the beneficiaries of this requirement. However, in November it will have been a year since Timotheus' parents returned to Bartella and they will have to start paying rent as of then. But Samir is still looking towards the future optimistically. "I live from day to day, just as Jesus taught us. May God give us our daily bread." Samir earns his family's daily bread as an English teacher. "I prepare students for university." He primarily teaches non-Christian children of the Shabak peoples, an ethnic group that follows Shia Islam. Muslims are a growing part of the population of Bartella because many Christians are selling their land to them before leaving for other countries. This worries Samir. Samir also earned his living as an English teacher when he lived in Iraqi Kurdistan as a refugee. Most of the Christians had fled to safety there. "The years as a refugee were of course difficult. We hardly had any money. We would not have made it without the support of the Church." Despite everything, though, leaving Iraq has never been an option for Samir. "Without a doubt: we live in an unstable country. However, it is still our homeland. As long as nothing absolutely terrible happens, I want to remain here." His wife Siba agrees with him. "I love my homeland. The support of my Lord and my husband give me the strength to endure all hardships."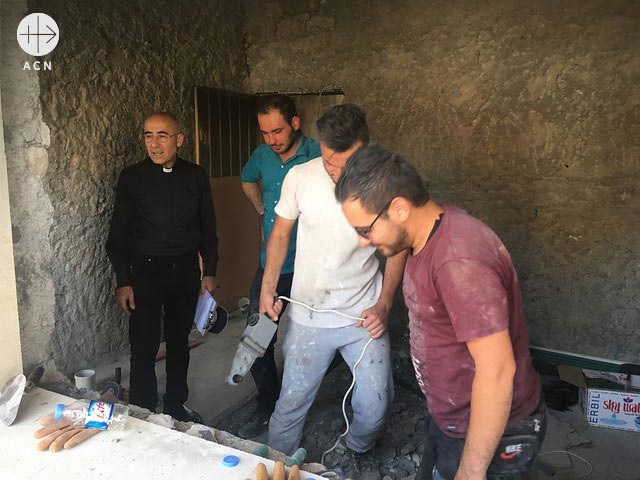 Samir is happy that things are improving again in the town. "Most people have gone back to their normal lives. Things have returned to the way they used to be." In fact, the sound of hammering and renovations can be heard all over town, as people repair the damage left behind by IS. However, in the Syriac Orthodox parish church in Bartella, not all traces have been removed. Father Jacob, the priest, leads the way through the church. It has been renovated using monies granted by ACN. The walls are radiantly white. The painted wooden altar gleams in vibrant colours. The anti-Christian graffiti and the Islamic creed that the IS terrorists wrote on the walls have been whitewashed. Only a charred chapel has been left as a reminder of IS. "We left the chapel like this on purpose. It is supposed to act as a reminder of the awful things that happened to us. However, thanks to God's help and the generosity of the benefactors of ACN, we have come back."