Earlier this year, in accordance with a law for the restitution of religious buildings, the authorities returned the church of Saint Clement in Sevastopol to the Catholic Church. The church, which was built in 1911, was extensively damaged by bombing during the Second World War. In 1948 it was rebuilt by the Soviet government as a children's cinema, with an auditorium able to accommodate up to 300 spectators.
The return of the church – which took place in early June this year – was celebrated by the entire Catholic community. Bishop Jacek Pyl, who is the delegate of the Holy See for the apostolic district of Crimea and Sevastopol, spoke in an interview with the international Catholic pastoral charity and pontifical foundation Aid to the Church in Need (ACN) about the importance of this gesture of recognition for the Catholic community in this extremely sensitive region, which was annexed by Russia in 2014.
The return of the church was the result of the implementation of a decree by the local government on the restitution of "historical property".
Bishop Jacek Pyl, who is also Auxiliary Bishop of the Ukrainian diocese of Odessa-Simferopol, emphasised that the background to this gesture points to the diplomatic activity of the Vatican and he recalled that "last year Cardinal Pietro Parolin met with the authorities in Moscow". He added: "I am sure that the return of the church in Sevastopol is the result of these negotiations."
But despite the fact that the return of this historic church holds a high symbolic meaning for the tiny local Catholic community and has been a real "sign of hope", we should not forget that "many other churches still lie in ruins", Bishop Pyl warned.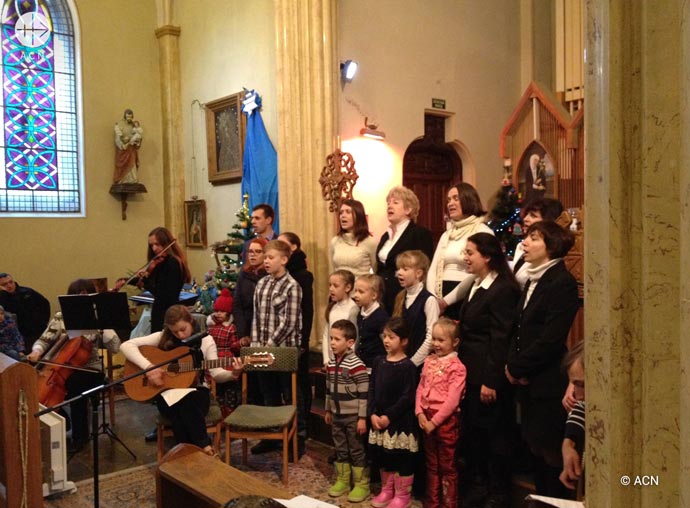 As the Holy See's delegate explained to ACN, in the speeches made during the handover ceremony of the church it was recalled that the restitution of this property to the Catholic community was an "exercise of historical justice, since the property should be in the hands of its legitimate owners".
After having been deprived of their church for so many decades, the Catholics would now like their doors to be open to everyone in the city. "In addition to being a place for liturgical celebrations, it will also have an organ for concert recitals" the bishop explained. "It is important to demonstrate to a society formed under Soviet communism that the Catholic Church is not hostile, and so if it has an organ, we can organize musical concerts for everyone. It is important that we should cooperate with society in the cultural sphere; this is the language of dialogue."
In addition to tackling the massively burdensome historical legacy of the decades of Soviet dictatorship, the Catholic Church in Crimea also has to confront the present-day economic necessities.
The Catholic community in Crimea is very small and most people face real economic hardship. "Unfortunately, the people here are poor", the bishop explained. "Following the annexation of Crimea, pensions fell, but at the same time food prices soared, with the result that people now spend everything they have on basic necessities, such as food, rent, electricity, gas, etc."
"Contact with the outside world is rather difficult", he added. "For example, air travel to other cities and countries is no longer possible, and the only route that is still open to us is from Simferópol to Moscow…"
At present there are around 1500 Catholics who remain in immediate contact with the Church, but there are many others scattered about or still anonymous, given that under communism the attempt was made to destroy every vestige of the Catholic faith. All the churches in the large cities were either demolished or converted into secular buildings. For all these reasons, it is difficult to make contact with all the Catholics in the area, as Bishop Pyl explained, at the same time pointing out the approach that is needed: "The Church needs to go out to those people whose faith is weak or dormant, to reach them in their homes and meet with them, whether it be in a shack or a private home; or to go and visit them at Christmas or Easter."
The Catholic community in Crimea, poor and few in number, is still viewed with some mistrust by a society conditioned by decades of Soviet propaganda. Hence the aid it receives from international charities such as ACN is vital. In one of the charity's current projects for the local Church, ACN is supporting some of the poorest and most vulnerable families, as well as the sick and elderly. Bishop Pyl sees this kind of aid as "indispensable, if they are to live with some dignity". But despite this, and despite the enormous material poverty, he still views the pastoral support of ACN as the most important aspect. "The spiritual needs are our priority", the Holy See's delegate insists. "God, prayer and faith are what comes first."