2020 will probably go down in the history books as the "year of the coronavi-rus". Within a very short time, the pandemic plunged the entire world into a deep crisis. But COVID-19 is not only a medical, social or economic problem, but also a pastoral one. Therefore, immediately after the outbreak of the pandemic, our aid organisation launched a special programme to support the Church in overcoming specific challenges during the coronavirus crisis. We spoke to Regina Lynch, Director of Projects at ACN, about the coronavirus aid.
What kind of needs have been reported by ACN's project partners during the coronavirus crisis?
Most of our global project partners are reporting less medical needs, and more the impact of restrictions on daily life in the parishes. The most difficult thing for the churches is that no public church services have been allowed during the lockdown, nor could the usual pastoral and social programmes be carried out in parishes. To compound matters, in many of our partner countries, collections dur–ing Sunday services ensured the survival of priests and religious. This source of in-come has disappeared overnight during the lockdown.
What is the focus of coronavirus aid from ACN?
Especially during this severe crisis, a strong sense of faith is indispensable for many people. Therefore, as a papal aid organisation, we must first and foremost ensure that the Church is not hindered in fulfilling its pastoral and ministerial tasks through a lack of financial resources. Above all, this means that we help needy priests and religious sisters with material aid and Mass stipends. But we also need to provide funding to local churches for masks and protective clothing, or help radio and television stations purchase technical equipment, so that the faithful can participate in Mass via television or radio during the lockdown and receive the message of the Gospel.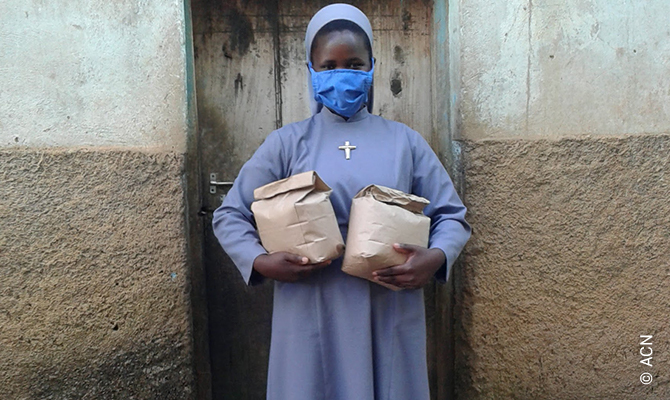 ACN has launched a special coronavirus programme; what type of assistance has been pledged and provided so far?
Thanks to the generosity of our donors, we were able to provide emergency aid consisting of more than 385,000 Mass stipends worth 3.1 million euros to some 10,500 priests between March and May 2020. During this period, we were also able to make pledges of material aid to religious sisters in almost all parts of the world amounting to around 800,000eu-ros. Throughout 2020 as a whole, our coronavirus aid reached a volume of nearly 6.3 million euros, distributed over a total of 401 projects. Thus, we were able to increase the material aid to priests by 95% compared to the previous year, i.e. nearly doubling it. The provision of Mass stipends increased by 23% compared to the previous year and material aid to religious sisters by 24%.
Which project particularly impressed you during the crisis year?
Worldwide, I have been impressed by the tireless and often selfless commitment of priests and religious who have to cope with tasks during the pandemic, usually under highly difficult conditions. For example, priests in the Diocese of Dolisie in the Republic of Congo who share the Mass stipends they receive from us with the poorest in their community. I am equally touched by the dedication of so many religious sisters, including those of the "Hermanas Sociales" Congregation in Cuba, who, despite the prescribed restrictions, always find a way to contin-ue their pastoral work and care for the elderly, and also mobilise efforts for the homeless.