Although Romania has been an EU member since 2007, the country is still marked by a weak economy, unemployment and corruption. The consequence: of the country's 19.5 million inhabitants, many young people, in particular, are leaving the country due to a lack of prospects. The Romanian Catholic Church, already a minority religious community with scarcely 6% of the population, has not been left unscathed by the difficult situation. ACN primarily supports the Romanian Church with construction and renovation assistance, spiritual guidance, training future priests and family pastoral care.
86% of Romanians belong to the Orthodox Church. During the communist era, all churches were severely persecuted. The small local Catholic Church lacks the financial means to invest in what is often an outdated infrastructure or to purchase new vehicles.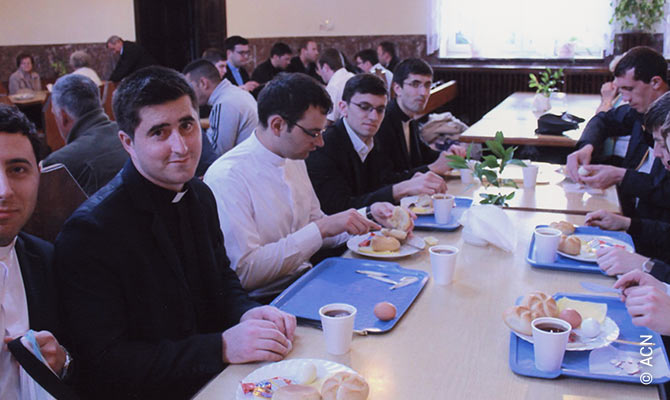 Another important concern is the promotion of priestly vocations. In addition to providing budgets for construction and renovation work, funding for the training of priests and religious is therefore one of the most urgent aid measures for ACN in Romania.
We would not be able to fulfil our task without help from abroad.

Father Anton Cioba, Rector of the Oradea Seminary
And this has been successful. The number of vocations at the Greek Catholic seminary in Oradea, for example, which ACN has supported since 1993, is gratifyingly high. 54 young men are currently undergoing their training there, which was co-financed by ACN with 32,400 euros in 2019.
The increase in priestly vocations is due in no small part to the increased commitment of the dioceses to family pastoral care. After all, stable families which are firmly rooted in faith are fertile ground for religious vocations. These initiatives are also supported by ACN. The visit of Pope Francis, who travelled through the country from 31 May to 2 June 2019, also gave Romanian Catholics new courage and confidence. He met with Patriarch Daniel of Bucharest and other high dignitaries of the Orthodox Church at that time.