Even if the flow of refugees to Western Europe has slowed down, one can certainly not speak of a relaxed situation. ACN has therefore increased its commitment to Christian refugees in recent years. Many are traumatised by persecution, discrimination and war. They not only need sustenance and accommodation, their souls also need food and shelter. Those who suffer wish for pastoral care and long for active participation in the life of the Church, since faith is an essential part of their identity.
Our commitment to the Christian refugees in Europe will not cease.
Refugees who have found refuge in Western Europe are initially confronted with a language barrier, which often leads to them feeling isolated from society and alone in their parishes. In order to break down these barriers, ACN has intensified its pastoral care services for refugees. In addition, our foundation provides Bibles and spiritual literature in the refugees' native languages.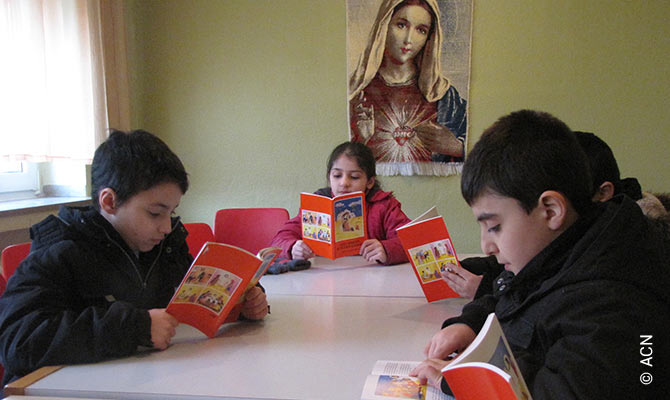 In addition to our involvement in refugee work, we also support the Church in the West with new evangelisation initiatives in particular. After all, structural upheavals such as the declining number of believers, the ageing of society, the decrease in spiritual vocations and the dwindling knowledge of faith are bleeding the Church dry. ACN supports Catholic media work, but also conferences and events which focus on Christian values and strengthen the faith. Contemplative monasteries, priest training and initiatives that appeal to young people and thus bring new momentum to parishes are also supported. It is not unusual for spiritual vocations to arise from these projects.